Inspiring Gifts for Cancer Patients, Survivors and Caregivers Worldwide

This shop is powered by Printfection and proudly offers a 30 day money back guarantee on all purchases.
Limited Editions
Show No Fear. Start Shopping Now.
Click on any of the images below to get yours now.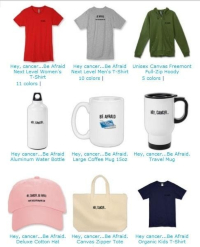 Hey, cancer...Be Afraid
I Kicked cancer's Ass - Who's Next...